2.1 Footstool Project Plans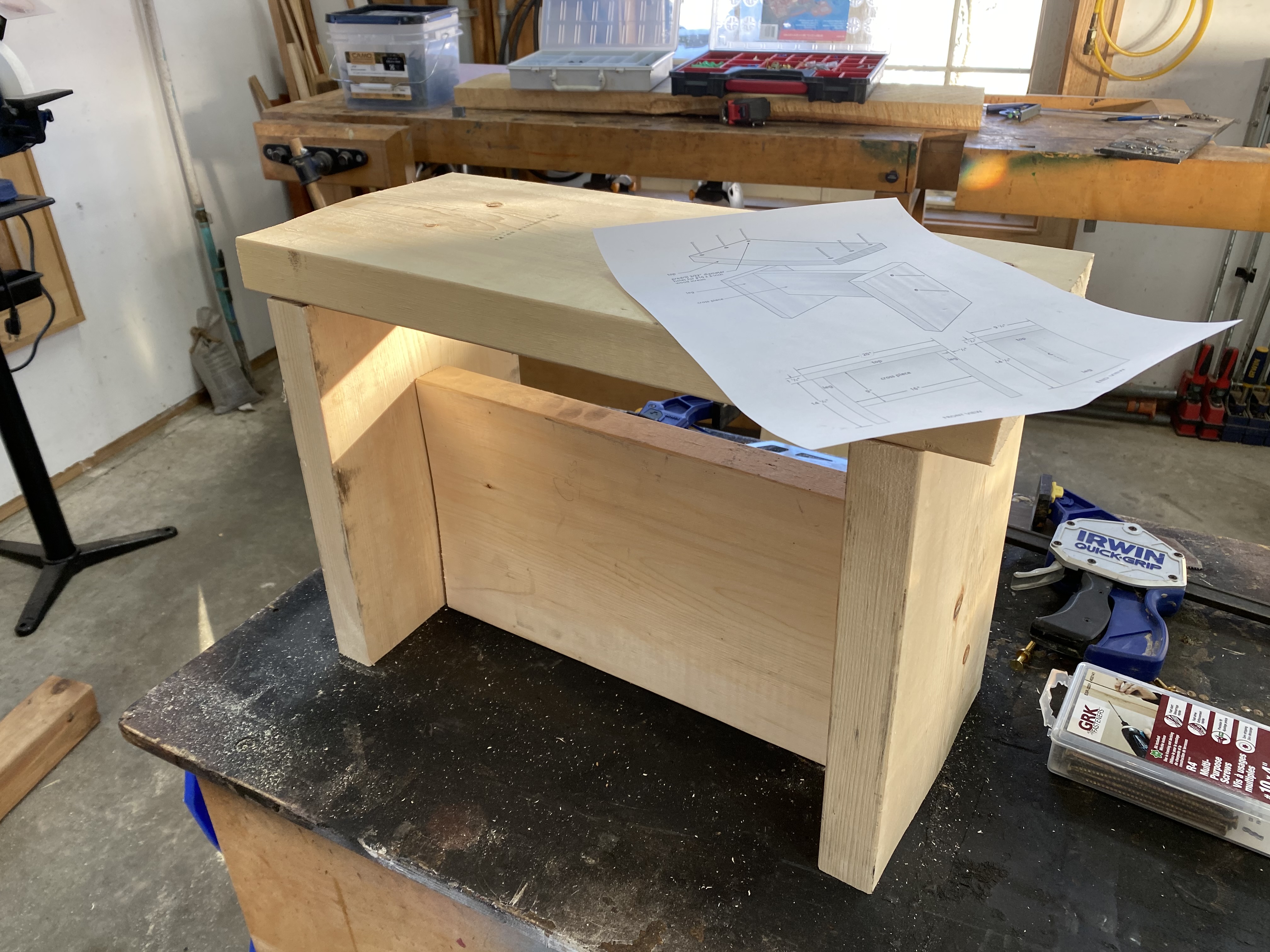 Let's Start
Footstool design
The best way to understand and develop woodworking skills is to practice doing them the right way. So let's get down to our first woodworking project, a footstool. This will give you plenty of chances to discover and refine fundamental skills.
Since the essential nature of woodworking is cutting lumber into pieces and then joining the pieces together in different ways, this project introduces fundamental cutting and joining skills. By the time you're finished, you'll have a handy little footstool, but more importantly you'll begin to understand the challenges of woodworking and how to overcome them. Meeting challenges is the best way I know of to gain experience and abilities.
Before you continue, be sure to watch the video below and download the footstool plans and interactive 3D drawing. These resources will help you visualize the project accurately before you start. Visualization is a big part of getting good with wood.
13DOWNLOAD - Footstool Plans-.pdf
File formats
PDF files are useful files, in part because they are so universal; there are many apps, browsers and computer programs that can open them. Adobe Acrobat Reader is one of the most popular ways to open, view and print PDFs. You can download it from adobe.com for free if you don't have a PDF viewer. I use Preview on my Apple computers for PDF viewing, and it works well, too.
I've also included an interactive 3D view of the footstool, made with a program called SketchUp. (SketchUp files have an .skp extension.) You can view .skp files with SketchUpViewer, a free program you can download from sketchup.com. The viewer won't allow you to modify the drawing (that's probably a good thing), but you can look at the design in three dimensions, rotate the drawing and view it from any angle. It's a handy tool to help you learn visualization skills.
Customize your footstool
The footstool design has just four parts: two uprights, one crosspiece and one top. The exact dimensions of these parts is not crucial, so feel free to adjust part sizes to create a length, width and height that suits you best. You could even lengthen the footstool to create a sitting bench.
One of the benefits of building your own projects is that you can customize them. You can change the size, materials, and more, as long as you understand how your changes could affect the project's function. That's one reason visualization is important; it helps you work through the effects of your changes before you start building.
With each of the steps that you'll read coming up, you'll move forward with your project, but more importantly you'll move forward learning skills that will be useful for other woodworking projects you'll tackle in the future. Just remember, we're going to be going slow, and I'm going to deal with every useful tangent we come up against. Prepare to be patient.
Special course discount
If you've come to this page as part of a free preview, and you want to start creating projects with wood, Woodworking for Beginners is my comprehensive course, teaching the techniques you need to make beautiful, useful items for your home. You'll also learn how to build a right-for-you tool collection. Woodworking is satisfying, fun, and easier than you think. You get lifetime access to all course materials and to me, and I offer a money-back guarantee.
And when you decide to enroll, be sure to use the coupon code BONUS30 at checkout to get $30 off course fees. There's no easier way to start woodworking.
LEARN MORE ABOUT THE COURSE
Complete and Continue