1.1 Introduction to Making Traditional Cabinets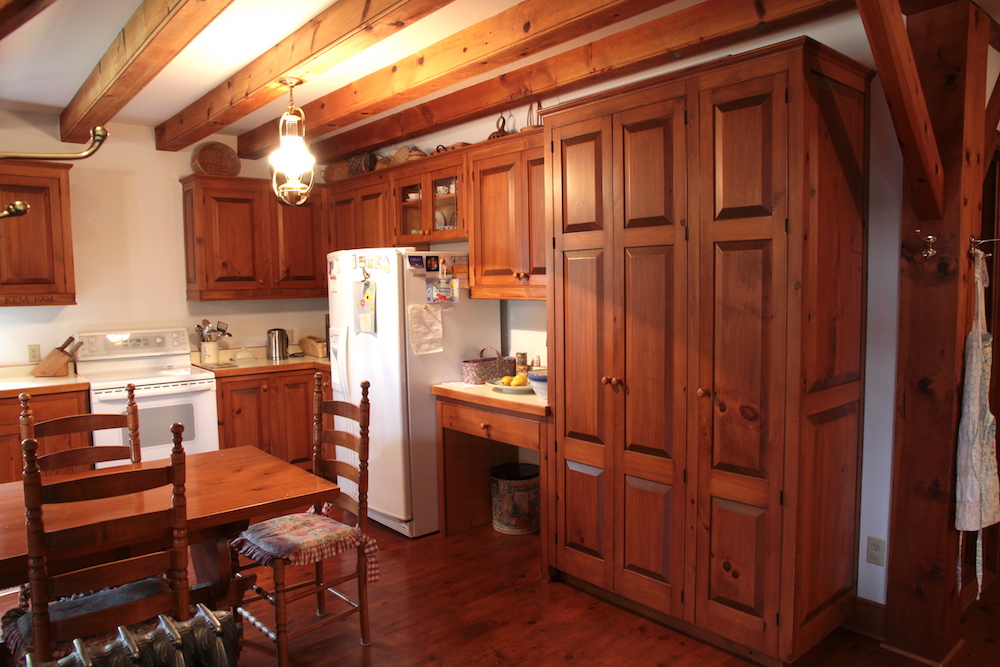 Build Your Own Traditional Face-Frame Cabinets
Building your own kitchen, bathroom and household cabinets is one of the most enjoyable and profitable things you can do in your workshop, but there's much more to it than just saving money and having fun. If you're like most woodworkers, you value the chance to live with things that are honest – things that really are what they seem to be. Sad to say, most ready-made cabinets don't fit this description. Not even close. Even many high-end designs aren't all that high-end when you see what they're made of, how they're put together and the kind of hardware that's hidden behind the scenes. This course is for woodworkers who want real wood and real craftsmanship at the heart of their homes.
What I'll teach you here is how to bring authenticity, craftsmanship and top-quality materials to cabinets for your kitchen, bathroom, dressing room, and even your garage and workshop. Make these cabinets part of your own home and your life – or build them for friends, family and clients who want more than the usual particleboard boxes. There's a lot of room for fun and satisfaction here.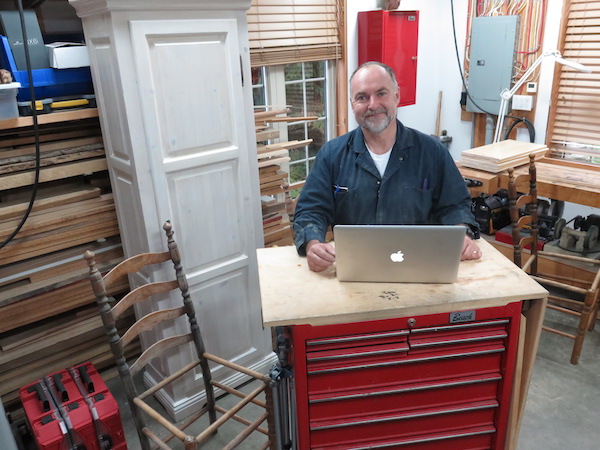 Think of this course as a set of video-enhanced plans for building furniture. In this case the "furniture" pieces are custom-designed cabinets that can efficiently help you store and prepare food, enhance your bathroom, and keep your garage or workshop organized, and more. I'll lead you through a very specific yet flexible approach to building traditional style face-frame cabinets that make the most of solid wood. I began using and refining my honest cabinet construction methods in 1987, and I'm still using them today. My approach delivers the good looks of a bygone era without demanding time or skill that few woodworkers have. Simple tools, basic abilities, a supply of honest materials and a reasonable amount of time are all that's required.
My approach uses real wood in all the visually prominent places, including face frames, raised panel doors, end panels, beading and shop-made crown molding. I'll even show you how to add incised carvings and lettering details to customize your kitchen if you really want to go all out.
I also use veneered plywood, but only in hidden places where it makes the most practical sense, as you'll see.
This course is organized to provide a step-by-step approach to building all kinds of cabinets. You could just start at Lesson 1 and build as you go, but I encourage you to read through the content and watch most of the videos at least once before you pick up a saw and start working. Knowing where you're going always helps you plan how best to get there.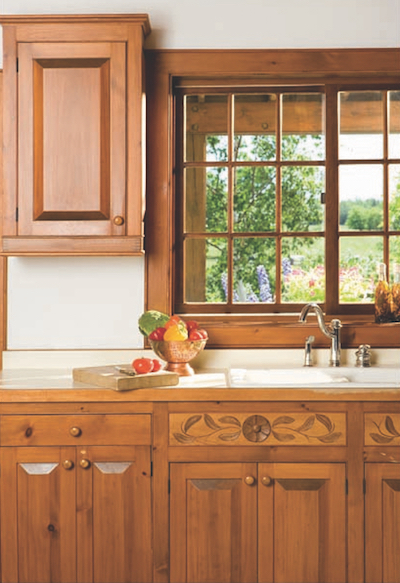 A note on videos and photos
It's taken me decades to perfect the techniques you'll learn here, and I've been making videos and photos to document the process since 2001. None of the instructional images you'll see in this course are staged studio visuals. It's all real stuff gathered in my workshop using the best cameras available at the time. That's why I'm younger in some videos and photos, older in others. Some of the visuals come from my own kitchen cabinets in cases where these show some technical issue best. Please excuse the bit of wear they show from having been in use for more than 25 years.
Thank you, also, for trusting me to show you how to build the kind of cabinets that a quality-minded woodworker can be proud of. I've helped hundreds of people with minimal experience to create cabinets that turn out extremely well. You and I can do the same thing together.
– Steve Maxwell
Manitoulin Island, Canada
Skills you'll need
Well-made kitchen cabinets are beautiful and impressive, and success with the approach I'll show you here requires only intermediate skills. You don't have to be an expert woodworker to get great results, but you do need to be equipped and skilled enough to do the following operations.
Cut 3/4"-thick veneered plywood safely and accurately on a tablesaw.

Safely rip, crosscut and prepare 3/4"-thick solid wood into face frames, door parts and drawer faces.

Accurately build drawer boxes, within 1/16" of their ideal size, using 1/2" veneered plywood.

Cut and join frame-and-panel doors and end assemblies from 3/4"-thick solid wood.

Apply a stained-and-sealed finish consistently on doors, drawers and cabinet boxes.
All these skills are pretty basic as woodworking goes, but if you're unsure of yourself, practice to improve your weaker skills before building these cabinets. You'll learn more about the specific details of each operation as we get to them.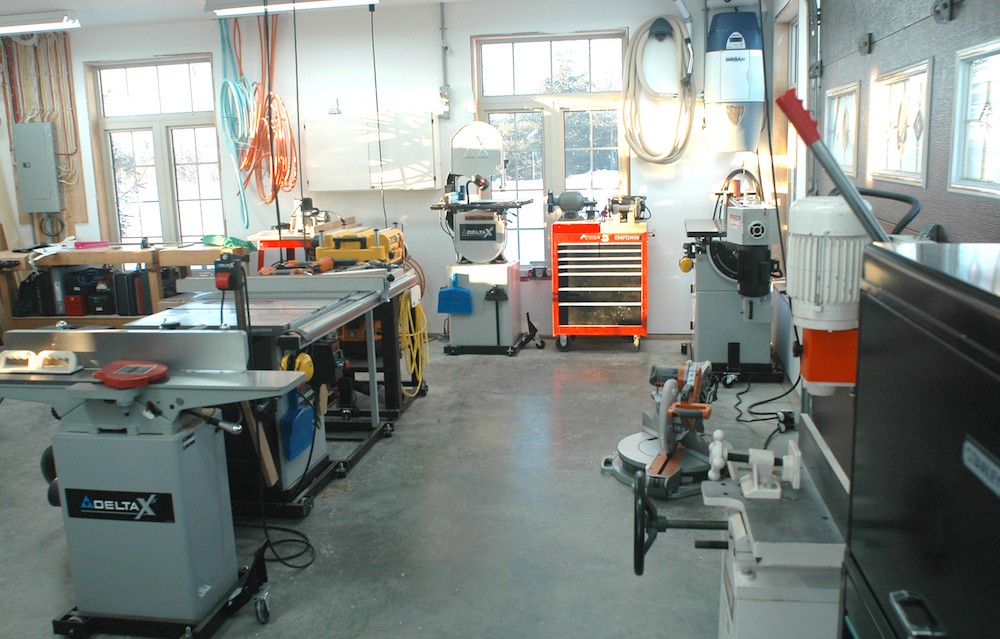 Tools you'll need
I began building cabinets the way you'll learn here in 1987, when I worked as a cabinetmaker for a husband-and-wife team who owned a custom kitchen business in the suburbs of Toronto. The kitchen you see in some of the photos is in my own house. I built it in 1989 using the simplest collection of power tools imaginable, right in the 15' x 20' kitchen space itself. No workshop at all. These days I have a dedicated woodworking shop that you can see here, but a space like this isn't necessary. The equipment you need to succeed is actually pretty basic, too.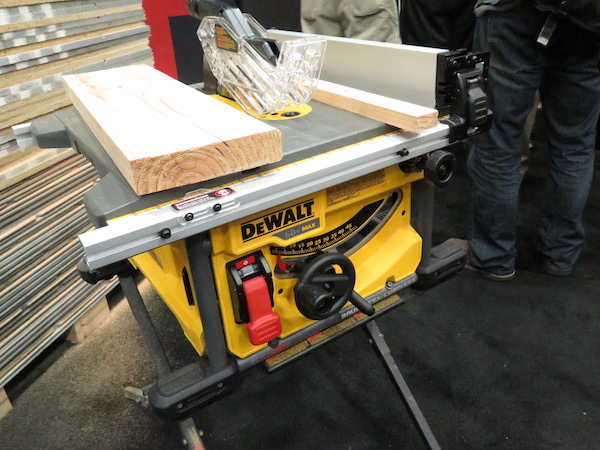 Tablesaw
I used a little Makita benchtop model for making my own kitchen years ago. A stationary tablesaw is what I use now, but a portable benchtop model works just fine if you build a wrap-around outfeed table to support the sheet goods, as I'll show you later.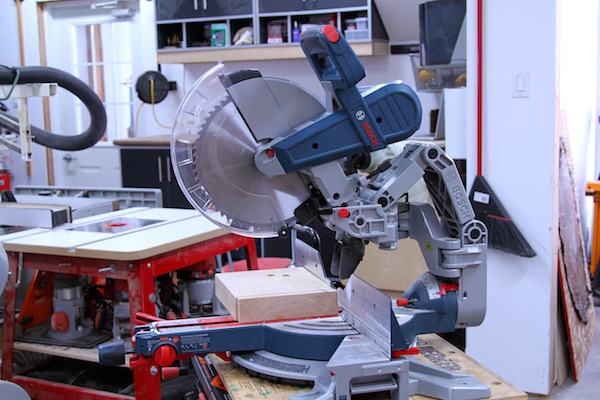 Chopsaw
A simple, non-sliding saw that crosscuts a 2x6 is all you really need. Solid wood parts are mostly for the face frame and all these parts are narrow. A bigger saw is handy for crosscutting wider parts, but you can always do this on the tablesaw if need be.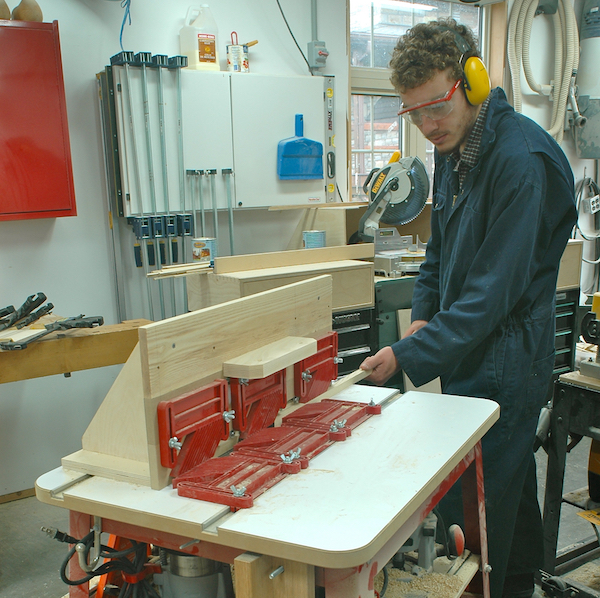 Router and table
You only need a router table if you plan to make your own beading and crown molding, as I did. A simple 2 1/2 hp router in a home-made router table top is all that's required. I'll give you more details later on making a wide-faced fence if you want to mill your own crown molding.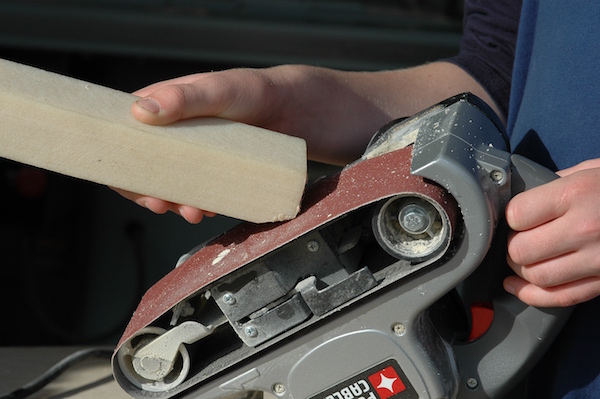 Hand-held belt sander
Any kind will do. You'll use this tool for preliminary sanding of face frames so they're flat and smooth after they're fastened to the cabinets. A crepe rubber block is excellent for cleaning belts and making them last much longer.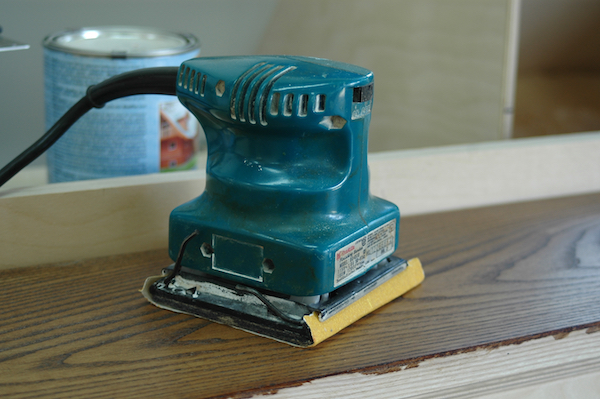 1/4-sheet finishing sander
This is the tool to use for second-stage sanding of face frames. You'll complete the job of sanding by hand, but the 1/4-sheet sander is ideal for intermediate work. The results are much better than with a random orbit sander.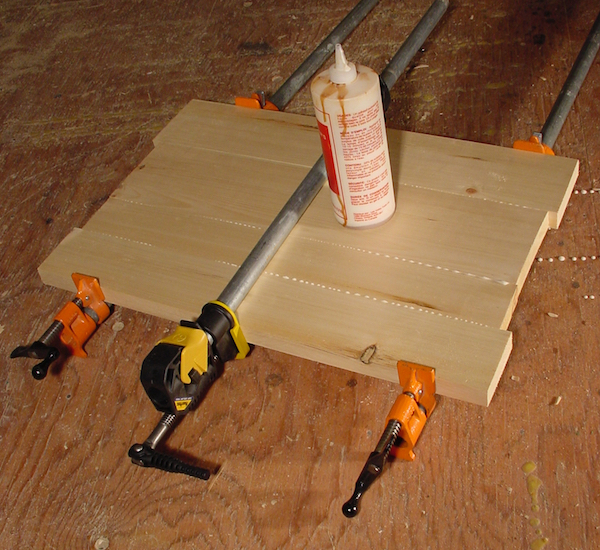 Pipe clamps
Half a dozen of these, 3 to 4 feet long, will be enough for most jobs. I'll show you how to extend clamps like this to any length you want later on. You'll use these clamps while gluing solid wood strips onto plywood edges and for assembling cabinet parts.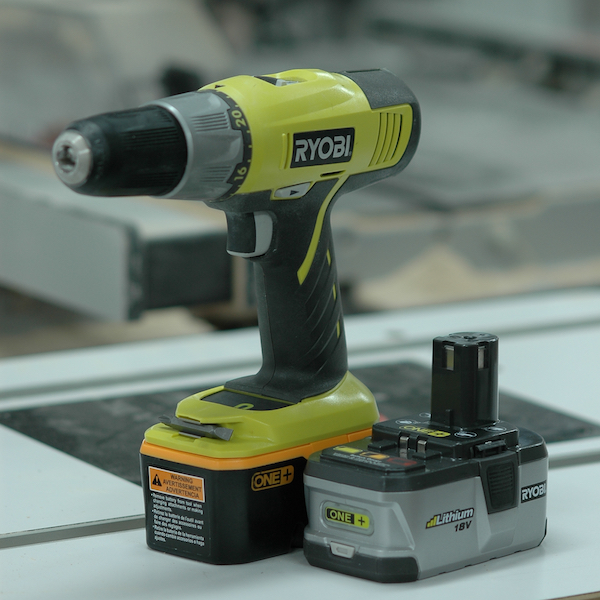 Electric drill
Any kind will do. You'll be using this drill to bore holes and drive screws. Even an old corded drill will do fine.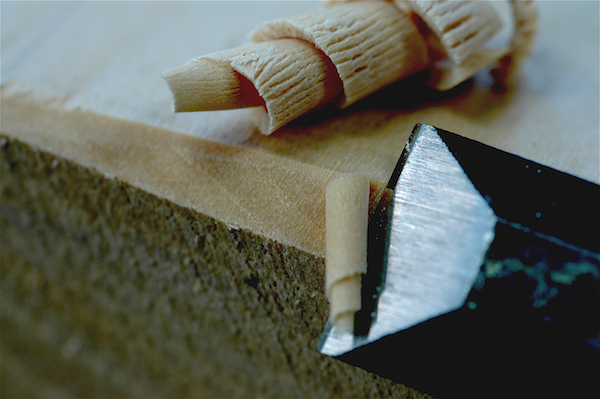 Hand tools
The hand tools you'll need include a hammer and nail set, plus a sharp chisel and block plane for fine fitting, as well as a 24" level, a block plane, and a cabinetmakers ruler.
How I learned to build cabinets
I got hooked on woodworking when I was 7 years old, the day my grandfather tuned up a 100-year-old wooden smoothing plane and chisels and showed me how to use them. His father had used these tools in his work as a cabinetmaker, and his R. Maxwell personal stamp is still visible on the wooden handles.
When I was in high school a few years later, the school had a great cabinetmaking program, which taught me enough that I paid my way through college in the mid-1980s building custom furniture for a handful of repeat clients. After college I got jobs in cabinet shops on the strength of a photo album I put together of my previous work. I never actually used my college degree in geography for anything. Perhaps I should have gone right to woodworking after high school.
The best place I ever worked was Whippletree Kitchens. Owned and operated by Evert and Nollie Vandenbrink, two Dutch immigrants who knew a lot about great design and great cabinetmaking. Some of the lessons I learned from them come through in the designs and methods you'll learn here.
Start by taking a look at the plans up next. While it's true that every kitchen cabinet layout needs to be different, the basic principles of how parts fit together are similar.
14_kitchen_cabinet_plan_overall.pdf
Construction overview
There are many legitimate approaches for building kitchen cabinets, but all methods come down to simple fundamentals. Build some boxes, make them pretty, mount them on walls, then add drawers, doors and a countertop. That's it. Before I lead you step-by-step through the particular construction details for this design, watch the video up next. It gives you a quick tour of the shop drawings you see here. The video will help you get familiar with the main design elements and how things go together. Follow this with a little more reading, and then you'll be ready to roll up your sleeves and get busy designing.
Special course discount
If you've come to this lesson as part of a free preview, and you want to start building traditional cabinets for your kitchen, bathroom or anywhere in your home, How to Build Traditional Solid Wood Cabinets is my comprehensive course that will teach you how to choose wood, cut and assemble cabinet parts, and apply high-quality finishes to your beautiful new cabinets. And that's just the beginning of what you'll learn. You get lifetime access to all course materials and to me, and I offer a money-back guarantee.
And when you decide to enroll, be sure to use the coupon code BONUS30 at checkout to get $30 off course fees. There's no better way to add traditional beauty and function to your home
LEARN MORE ABOUT THE COURSE
Complete and Continue