Online Course and Building Plans With Video Tutorials, Photos & Encouraging Instructor Support
Do your dream of owning a beautiful little place you built yourself? You're not alone. The tiny house movement is taking off around the world and you can be part of it. I created my COZY CABIN course for people like you, people who don't necessarily have building experience, but would love to give it a try. The cabin in the photo here is one of hundreds built around the world with this course by ordinary people with a dream to build their own small, high-quality cabin. The course includes detailed plans, video tutorials and access to instructor support.
Scroll down to see some of the interior design features of the COZY CABIN floor plan.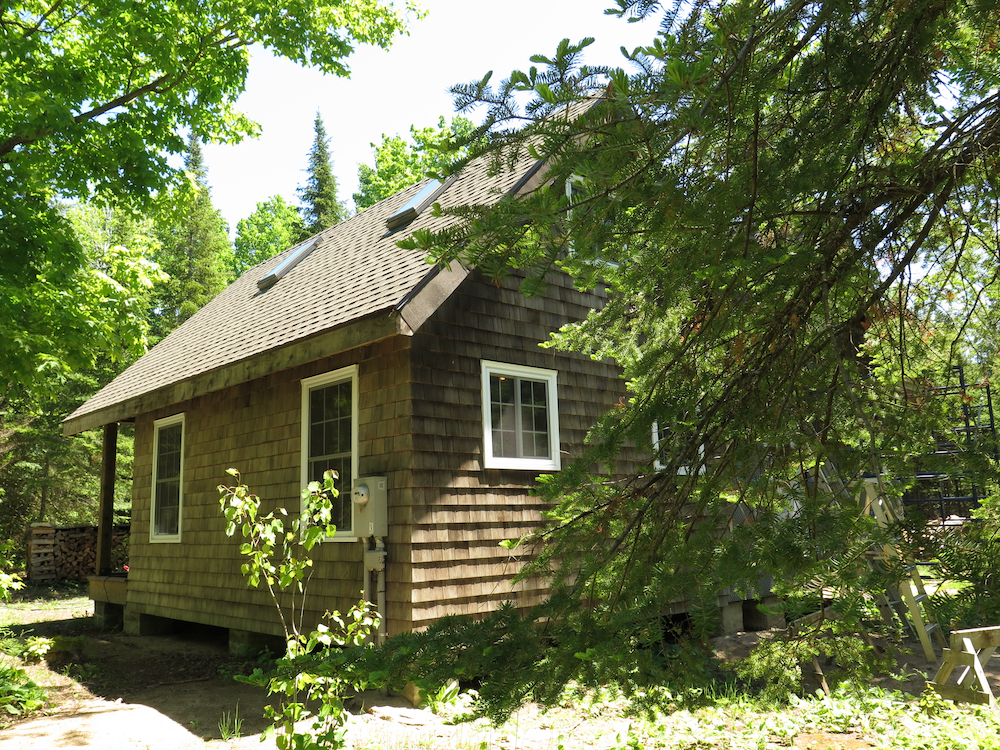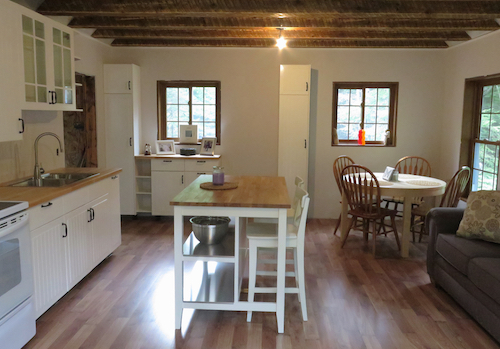 This is the main floor of the original COZY CABIN. Layout of the interior is entirely up to you. In this case the kitchen counter and sink are on the left, with couch and sitting area to the right.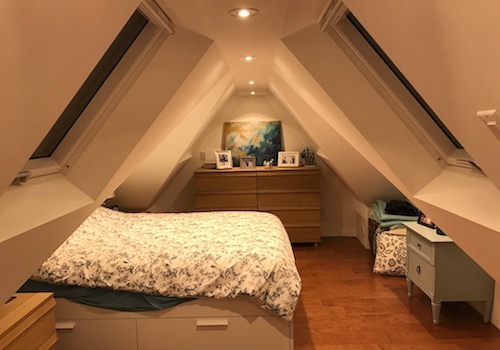 Example Title
This is the sleeping loft of the COZY CABIN. Openable skylights keep the space cool and well lit, even in hot weather. The design can be modified and finished in different ways.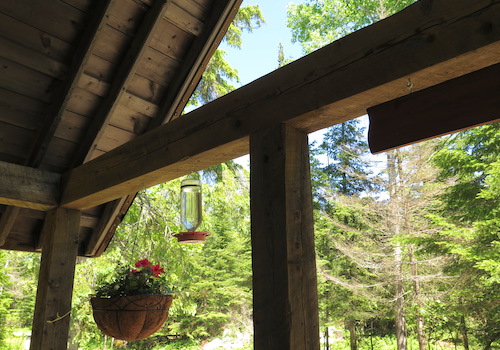 Example Title
Most people like a front porch on their cabin. This is timber work that's part of the front porch. The COZY CABIN design uses a lot of visible interior wood, just like a cabin should have.


See what they're saying . . .
Hello Steve!
I want to thank you for your COZY CABIN course. I purchased from you almost two years ago, I've followed your plans and am happy with the result.
Thanks for your advice!
– WB, Sept-Iles, Quebec, Canada
++++++++
I've attended tiny home seminars and bought other tiny home plans online, but Steve Maxwell offers the most comprehensive, thorough and detailed how-to guide to build a quality, beautiful small home out there today. His video explanations are so simple and easy to follow but really give you confidence. It was like Steve was with me every step of the way as I made my dream to live debt-free in a home I built with my own hands a reality. 
– RM, North Carolina, USA
++++++++
Steve has been absolutely fantastic to work with. He is always prompt to answer questions, and we could not be happier with the results!
– BT, Montana, USA
++++++++
After looking at your course I'm very excited to start and will be building a cabin using your plans. Thanks for such detailed work.
– JR, Aruba, Kingdom of the Netherlands
++++++++
Dear Steve! Thank you so much for COZY CABIN course and plans. We really appreciate all you've done to make this kind of project attainable for average folks. We looked at a lot of plans prior to settling on yours. My wife and I had been warming to the idea for a long time, but had never imagined we could complete the build of a complete home. Your plans gave us the guidance and confidence we needed to realize a dream of living off-grid in the woods. It has been really hard work that has demanded a lot of our time, but I can honestly say we have enjoyed every phase.   
– MW, West Virginia, USA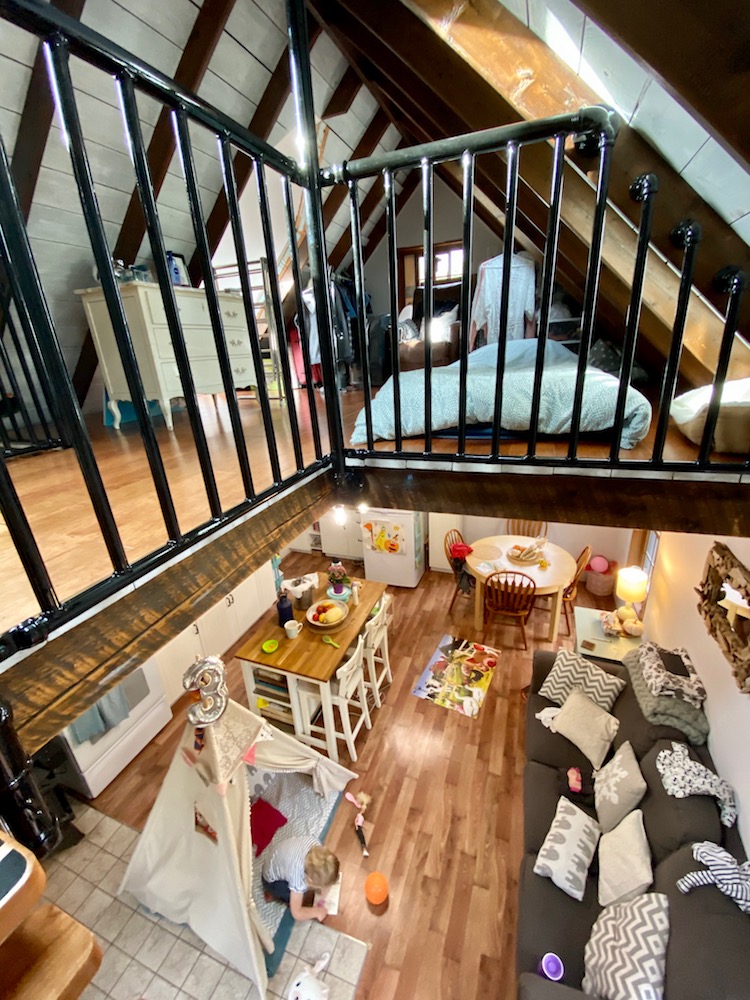 Who is the COZY CABIN course for?
The HOW TO BUILD YOUR OWN COZY CABIN course and coaching program is for anyone who has a dream to build their own beautiful tiny house. It's made for people who have never built anything before, but also for people who prefer to hire professional building help, following a plan to create a classic small cabin. The view here is looking down from the top of the loft stairs, looking down on the kitchen and living space below. Interior finishing details are up to you, and no two COZY CABINETS turn out exactly the same.
Scroll down to see a few of the hundreds of cabins that have been built around the world by people like you following this course.


See What Others Have Built!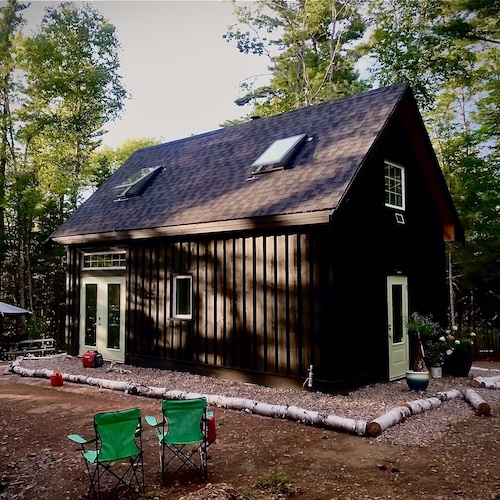 Example Title
This version of COZY CABIN was built with a modified window placement, board-and-batten siding, and no front porch. The openable skylights are a great feature for making the loft brighter and cooler during hot weather.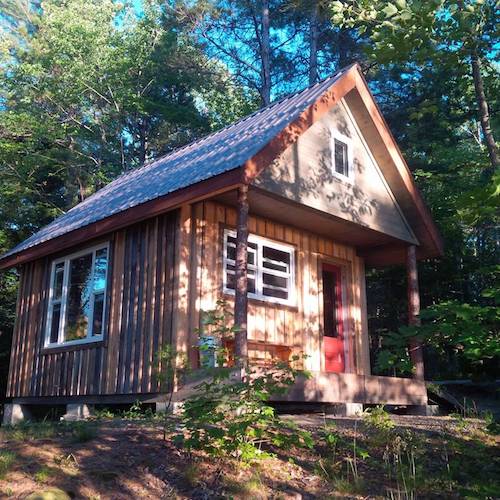 Example Title
Jim S. of Algoma Mills, Canada, built his COZY CABIN with an enlarged the loft area created by enclosing the area over the open front porch. He opted for board-and-batten siding and a picture window on one side.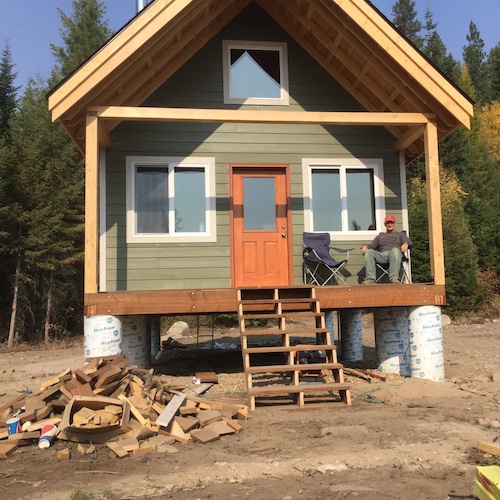 Example Title
This version of COZY CABIN was built in Montana. The builders had never created anything like this before. They opted for higher-than-usual foundation piers and window placement as shown in the plans.

Example Curriculum
Click the down arrow below to see the entire curriculum
3 Reasons You'll Love the COZY CABIN Course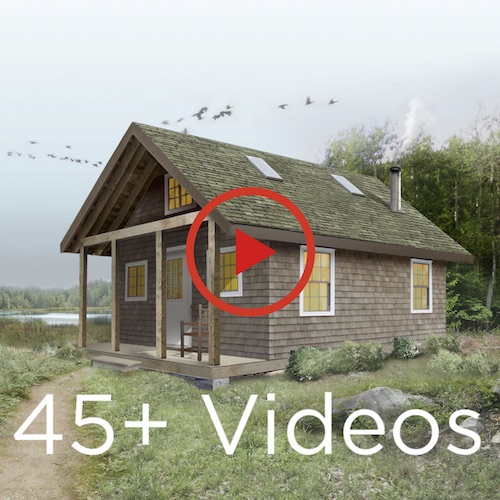 Example Title
LOTS OF VIDEO TUTORIALS: There's nothing like watching to help you learn. All important points are taught by videos, as well as text, photos & illustrations.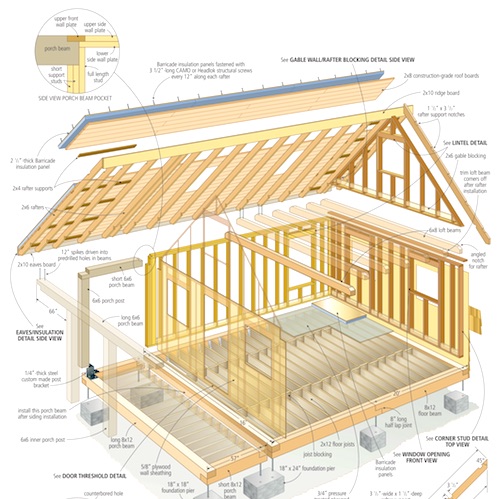 Example Title
DETAILED PLANS & ILLUSTRATIONS: Every last detail is documented visually, so there's no doubt about how things go together. All plan details also have accompanying video tutorials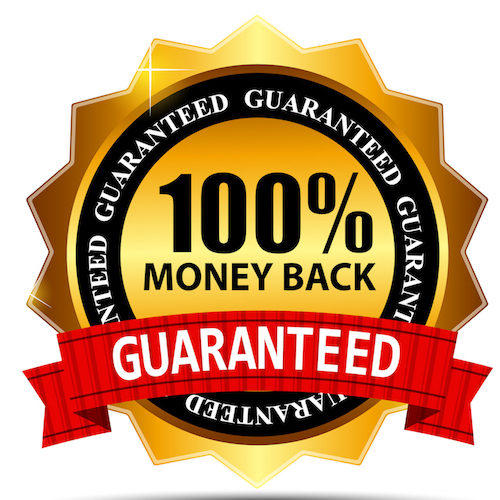 Example Title
THERE'S NO RISK TO YOU: As with all my courses, HOW TO BUILD A COZY CABIN comes with a 100% money-back guarantee. Examine the course for 30 days, and if you're not happy


The Story Behind the
HOW TO BUILD A COZY CABIN
Course
That's my son Robert and his wife Edyta, and when Robert was 18 he came to me with a request: "Can I build a cabin in a forested part of the property?" I was quick to say yes because I know how much growth and maturity a project like this can lead to for any young person. Soon after we started designing the place I realized what a great topic for a course this would be. We took lots of photos, I worked with an illustrator to make the plans, and the rest is history. While we were building the cabin Robert told me about a young lady he met online from Warsaw, Poland. Robert an Edyta were married in 2014 and they now live in the original COZY CABIN with their daughter Lily.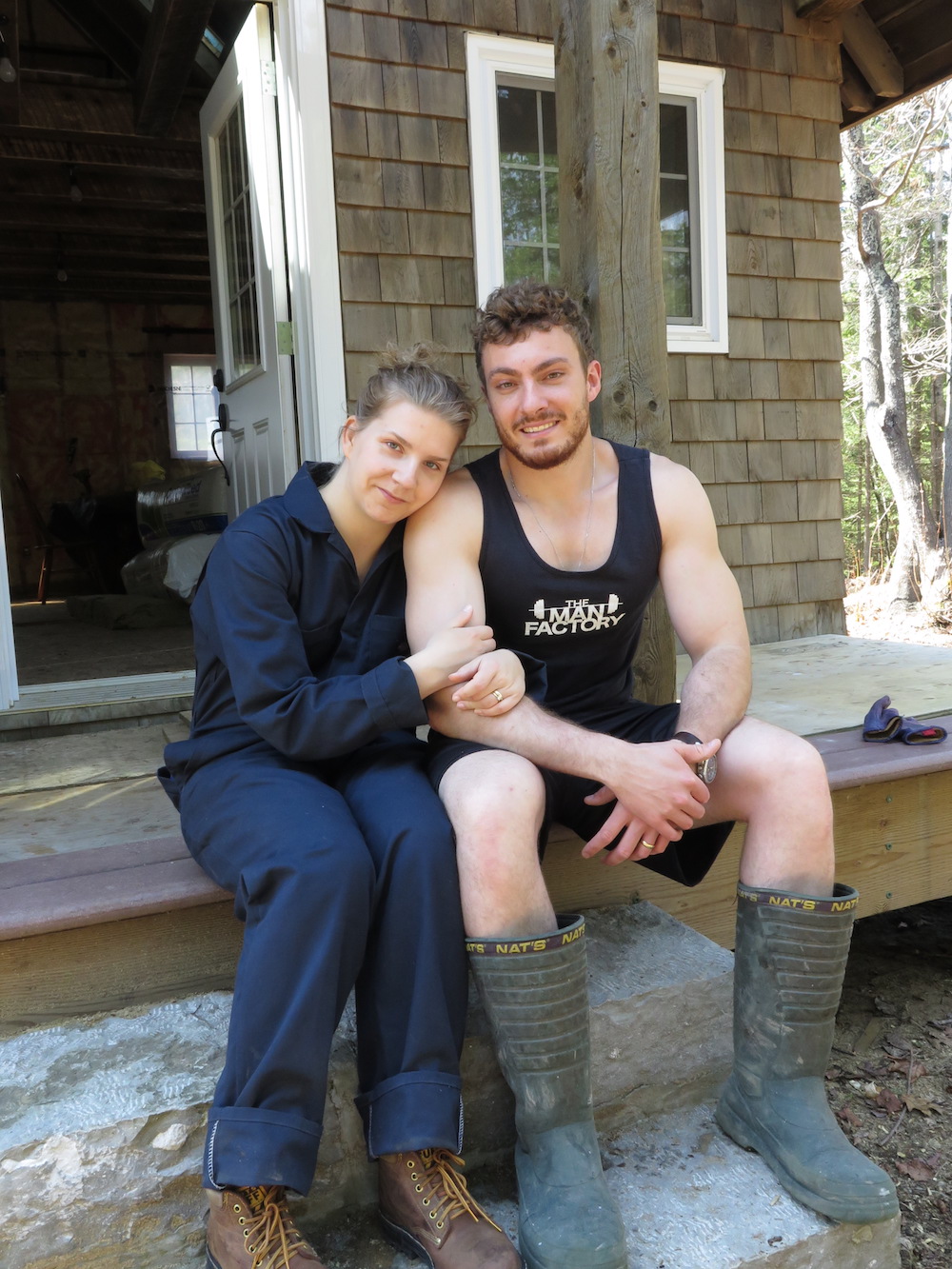 Got Questions About the Course?
Send me an email at [email protected]. I'd be happy to hear from you! Also, check out the list of Frequently Asked Questions (FAQ) below.
Frequently Asked Questions (FAQ)
Q: How much does it cost to build the COZY CABIN?
A: Cost depends entirely on how you choose to finish the interior, and whether you're doing the work yourself or hiring a carpenter. The shell of the COZY CABIN can be built for less than $10k of materials. Costs for labour might be 2x or 3x this amount.
++++++++
Q: What size is the cabin?
A: The standard floor plan measures 16 feet x 25 feet, including th 5-foot wide open porch. The course includes plans and directions for extending the cabin to allow room for an indoor bathroom and laundry room.
++++++++
Q: Do I need a building permit?
A: Most places do require a building permit for any structure over 10 feet x 10 feet. The good news is that building permits don't cost much. The design of COZY CABIN is robust and high-end, so it should satisfy any building inspector.
++++++++
Q: How long does it take to build?
A: Construction time depends entirely on the level of experience of the builder. An experienced carpenter and helper could build the COZY CABIN in a month or so. Owner-builders with no construction experience could take 2x or 3x
++++++++
Q: What tools do I need to build the cabin?
A: Hand-held power tools required are the same for building any house, including:
drill and circular saw
table saw
handsaw
tape measure
hand saw and screw driver
chalk line
hammer
power planer
++++++++
Q: I have more questions. How can I get answers?
A: Email me directly at [email protected]