1.1 How to Build a Better Deck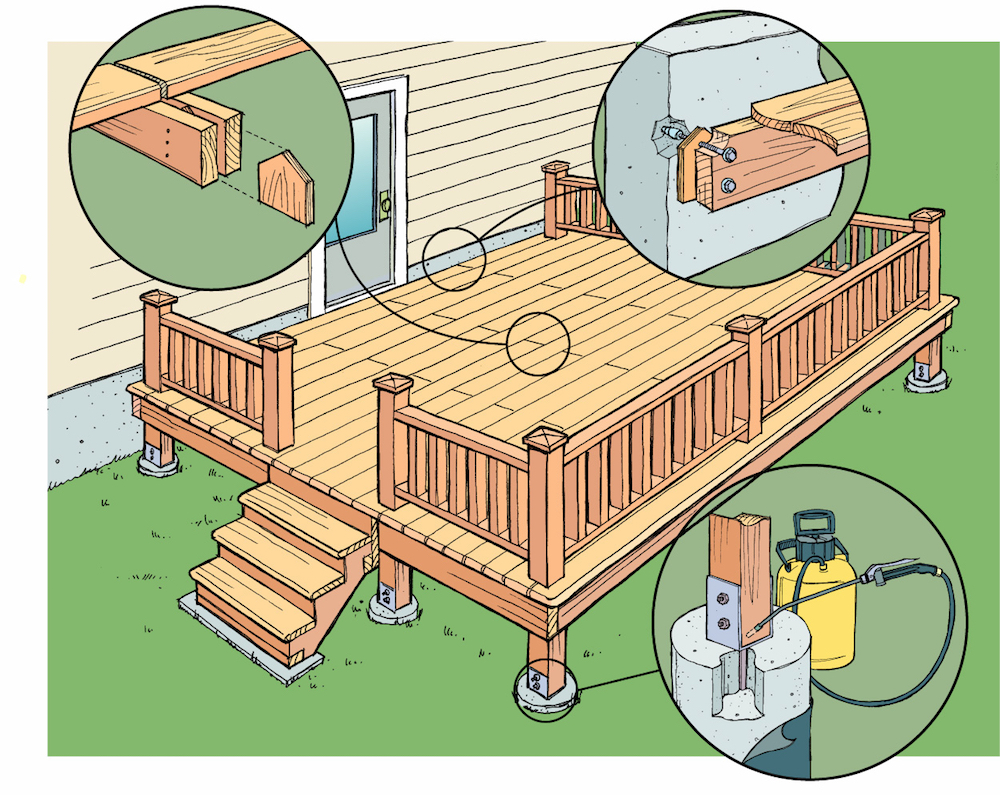 How to Build a Better Deck
People often talk about building right, but when it comes to decks, this happens far less often than it should. This still surprises me, because a little extra care taken in building a deck yields better looks and much greater durability. The same principle applies to deck finishing. A little effort and investment in building quality upfront is both the most beautiful – and the most economical –choice.
Thank you for being part of this deck course. I launched the first version of it in 2008, and since then it has helped hundreds of people to build, maintain and finish decks better. This version is the largest and most complete. Unlike early versions of my course, this one includes easy access to me through the Q&As at the end of each section. Each deck situation is unique, so feel free to contact me at any time. I'm here to help you get the most from this course and the most from your deck.
There's no shortage of deck building plans in the world, but somehow there's still no shortage of new decks being built and finished badly. That's because most plans never get down to the nitty gritty details of optimal construction and finishing strategies. So, many decks look good at first, but they only last about half as long as they would have – if they'd incorporated more durable design details. A less-than-ideal deck will also usually be an ongoing hassle to maintain over the long haul. Many new decks end up providing half the lifespan but twice the work.
Common, run-of-the-mill deck building methods often encourage rot, degeneration and short finish life. This is the financial, environmental and aesthetic waste that this course aims to prevent. If you're the kind of person who takes your deck seriously, this course is for you.
Listen to the audio message up next for some building ideas that I think you'll find useful.
Building and finishing a deck optimally is what this course is all about, and it's a rare professional deck builder who implements all the details you'll find here. The information and one-on-one guidance you'll get here is not only for people who want to build their own deck, but also for anyone who wants to guide a professional to do a great job for them.
Be prepared for pushback. Many professional deck builders will say something like "Oh, that detail is not necessary," or "We've never done it that way before, and we've never had trouble." Just remember, you're the boss, and few professional deck builders check back on their work five, 10 or 25 years after building. How do they know if their decks really do age as well as they could?
This course is not about how to build any particular design of deck. The shape, style and size of what you build is up to you. There are many plans available, and each deck situation has unique design challenges and opportunities. Instead, what you'll get here is specific, field-proven, technical information for preventing rot and boosting appearance on any deck you choose to build. To be specific, here's what you'll learn in each section:
Section 1 is about best practices for deck foundations and deck anchoring. A deck is only as good as its foundation, so that's why I'm starting here. Skimping on the deck foundation is a common mistake. Don't do it.
Section 2 shows specific design features that boost rot resistance, even when working with supposedly "rot-resistant" woods. The goal is to reduce wood-to-wood contact areas where moisture can get trapped between deck parts. Using the right techniques and strategies here could easily double the life of your deck.
Section 3 covers design, construction techniques and tools you'll find helpful for easily adding extra beauty to your deck. So many deck designs can be improved a lot with a router and saw, and just a little effort, as you'll see.
Section 4 is about deck finishing strategies that really work. You'll learn about proper deck preparation and discover specific deck stains that work well, according to tests I've been running since 1990. This section may be the most important in the whole course for many people.
Section 5 covers the growing number of non-wood deck options. If you want a beautiful deck that needs no ongoing refinishing (beyond cleaning), then you need this section. And I suggest that everyone read this, even if you start out wanting a wooden deck surface. You may actually change your mind.
Taken together, all five sections will let you build a deck of any size or shape that will last at least twice as long as with normal construction methods. It will look better with less maintenance too. Absolutely every new deck construction project can be improved by the technical information you'll learn here.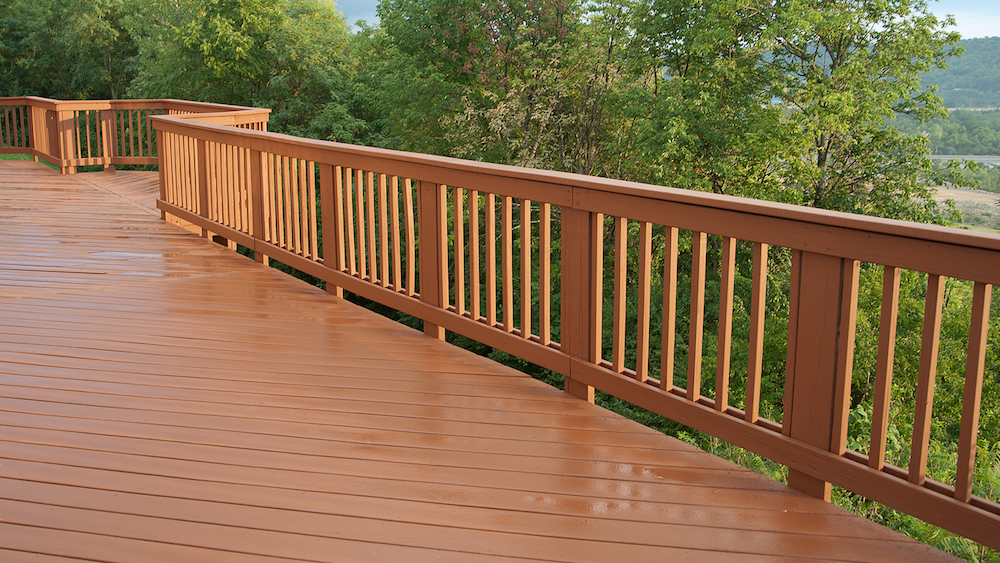 All the information you'll get in this course is based on 30+ years of building, including experience designing and building decks, watching them age, and monitoring technical advancements in the field. And as with all my courses, I'm standing by to help you individually as you make decisions about how to build, finish or refurbish your deck. Most decks have some unique features, and that's where I can help. Please use the Q&As at the end of each section, or connect with me through the course interface, and we'll figure things out together.
Truly great decks aren't built very often because too few people understand how. Choosing this course shows that you see the value in creating an above-average, durable and good-looking deck. That's great, but if you want quality, you will need to take charge. Even hiring an experienced deck builder isn't necessarily enough. In fact, it often isn't. Prepare yourself to override the opinions and suggestions of your deck builder when it comes to the details you'll learn here. Why is this necessary?
Many pros don't build truly optimal decks simply because the marketplace doesn't reward them for it. When homeowners choose builders on price alone (as many homeowners do), builders can't spend the extra time or use the best materials to build a great deck – it's just not good business. Homeowners don't always realize that choosing the cheapest deck options is false economy; the lowest long-term costs come from design details that translate into the longest possible deck life. In other words, if you want a deck that will last, expect to pay more up front.
If you're working with a builder, and you insist on a top-quality build – as you should – you must also expect to pay for the extra time and materials required. The bit of extra expense and effort to build for maximum durability more than pays off in extended deck life, a better financial bottom line, and environmental benefits.
Watch the video up next for an overview of what goes into a great deck and to learn a bit about the philosophy behind this course.
To summarize, there are three specific advantages to building an optimal deck following the methods you'll learn in this course:
Advantage 1: A surprisingly long deck life.
You'll get at least 30 years of life from a deck if you incorporate the rot-preventing design details you'll find here. Extrapolating from my own durability tests, even 50 years of service is possible – maybe even longer.
The oldest decks I've built using these methods are more than 25 years old now. I check them regularly and closely, and none show any sign of rotting or deterioration anywhere. Compare this with conventional decks that can develop terminal rot after just 10 years, even when built with cedar or pressure-treated lumber. How you put materials together is just as important as which materials you use.
Advantage 2: Gorgeous appearance.
Small extra efforts with a router or saw yield big visual improvements, and yet these details are hardly ever used to good effect on decks. The router bits you need for this work are easily available, and even a circular saw can make a big difference when used to create decorative details, as you'll see.
Advantage 3: Optimal function.
Well-designed decks are more enjoyable to use and easier to maintain. Stairs on an optimal deck are always solid and trustworthy, and railings are reliable and wiggle-free. If you build for barrier-free access, more people will be able to enjoy your deck. A great deck also doesn't force you to refinish more often than you expect. Look for the section on ramp construction in the course, too.
By the time you finish this deck building and deck finishing course you'll learn:
How to build wooden decks so they minimize wood-to-wood contact areas that hold water. Wood can't rot when it stays dry. Correct construction details can double the working life of a deck compared with conventional methods.

How to apply decorative routed details and other style features that can improve the appearance of any deck design.

The advantages of composite or plastic materials for deck surfaces if you want a refined appearance with light maintenance chores and no refinishing.

Proven pre-finishing preparation techniques for getting the most from deck finish life.

Specific deck finishes that have performed well in ongoing tests I've been doing since 1990. These include Sikkens Proluxe Cetol DEK Finish, Sherwin-Williams Superdeck Elastomeric Coating, Olympic Wood Protector Clear Waterproofing Sealant, Australian Timber Oil, a unique one-time product called Eco Wood Treatment, and others.
If you have a specific deck design in mind, keep referring to your plans during the course. This way you can relate everything you learn back to your particular design. If you don't yet have a design in mind, start researching, sketching and planning. The whole point of this course is to offer information and ideas that you can apply to your specific project. If you need help determining a design, contact me and I can give you some advice. Remember, I'm here to help you.
Special course discount
If you've come to this lesson as part of a free preview, and you want to start planning your top-quality deck, How to Build a Deck is my comprehensive course that will teach you the best deck-building techniques, materials to use, and finishing strategies. The best decks really can last twice as long as an ordinary deck, with less maintenance. And that's just the beginning of what you'll learn. You get lifetime access to all course materials and to me, and I offer a money-back guarantee.
And when you decide to enroll, be sure to use the coupon code BONUS20 at checkout to get $20 off course fees. There's no better way to enjoy a fantastic new deck
LEARN MORE ABOUT THE COURSE
Complete and Continue